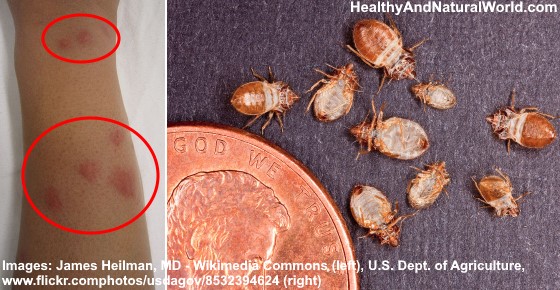 ?Don?t let the bed bugs bite? is a common phrase that people say before going to bed. Unfortunately, if you have bed bugs, good wishes aren?t enough to get rid of these little biting critters for good. Bed bug bites can cause itchy red clusters of bumps on your skin which are also called bed bug rashes. This severe itching creates a strong urge to scratch and is very frustrating. You may even lose sleep scratching through the night and worrying about the bugs in your bed.
Getting rid of bed bug bites can be very effective with home remedies. Many home remedies help to treat the itchy bites that these nasty bugs cause and also help to reduce skin irritation, reduce redness and swelling as well as prevent infection. Some natural remedies for treating bed bug bites like apple cider vinegar, witch hazel, and oatmeal reduce itching and swelling around the affected skin area. Other remedies include coconut oil, tea tree oil, or aloe vera to soothe the itchy skin and the inflammation around the bed bug rash.
Before learning about the best home remedies for treating bed bug bites, let?s look at the signs and symptoms of bed bug bites.
Advertisement
Signs and Symptoms of Bed Bug Bites
Bed bugs are tiny parasitic insects that range in size from 1mm to 7mm. According to the Centers for Disease Control and Prevention, these little pests feed on the blood of humans and animals.1 The bite from a bed bug can cause a bed bug rash which is an allergic reaction that makes the surrounding area inflamed, red, and itchy. Sometimes bed bug bites are confused with flea bites. Flea bites on humans occur at any time you are around the house, bed bugs are mostly active when it?s dark, so you will be bitten while you are asleep.
Dr. Varnada Karriem-Norwood on WebMD says that the red, itchy bites usually occur on the arms or shoulders, but they can also be on the face and be a reason for itchy hands. The red bumps on the skin tend to be in straight rows, although they can be in clusters. Although bed bugs don?t carry disease, scratching the skin irritation can lead to secondary skin infections.2
How Long Do Bed Bug Bites Last?
Bed bug rash or bite marks may appear several hours or even several days after the bite has occurred. The Centers for Disease Control and Prevention say that it may even take up to 2 weeks for bed bug rash and bite marks to become itchy, inflamed spots, depending upon the person?s allergic reaction to the bites.
Usually bed bug rash or bites last several days and then slowly fade, but in some cases they can last longer if the bitten person is more sensitive to the bites. Some people may not have any reaction at all, while others who are more sensitive can develop bite marks or rashes that cause severe itching.
What are the Signs of Bed Bugs?
You can spot bed bug signs by carefully examining your bed linen. Some of the telltale signs of bed bugs are exoskeletons left behind after molting, tiny blood spots on your mattress or bed sheets, and a sweet musty odor.1
Doctors from the Mayo Clinic recommend checking in the cracks and crevices of beds, headboards, bed frames, and in the seams of mattresses.3 Generally, bed bugs live within 8 feet of sleeping areas.
Advertisement
To eliminate bed bug infestation, please read my article about the top 10 home remedies to get rid of bed bugs naturally. You?ll discover effective bed bug treatments and detailed instructions how to use them.
Home Remedies to Get Rid of Bed Bug Bites
To get rid of bed bug bites, it?s important to reduce the itching and inflammation. This will prevent you from scratching the itchy bumps and rashes that the bed bug bites cause.
Cold compress
The simplest way to stop bed bug bites itching fast is to apply a cold compress to soothe the red bed bug rash. The effect of cold helps to calm the nerve endings and take the itch out of the bite.
Many doctors recommend a cold compress to reduce pain and redness of a bed bug bite. Dr. Charles Patrick Davis on eMedicineHealth says to first of all wash the affected skin area. Then place a cold pack or ice wrapped in a towel on the affected skin area.4 Leave on for around 10 minutes. Use the cold compress as needed to relieve the itchy skin and reduce redness causes by bed bug bites.
Apple cider vinegar
Raw apple cider vinegar (ACV) is a great natural remedy to make bed bug bite go away because its acidic properties relieve itching and redness. ACV contains acetic acid which is a natural anti-inflammatory and also acts as an antiseptic. Applying apple cider vinegar to bug bites can also help to prevent any secondary skin infection.
Scientists have found that topical applications that have a low pH level (acidic) help to relieve pruritus (skin itching).5 Apple cider vinegar has the effect of balancing the skin?s pH level which is higher when inflamed.
The journal PLoS One also found that acetic acid protects the skin from bacterial infections and speeds up the healing process.6
To use apple cider vinegar to relieve the irritation caused by bed bug bites, please do the following:
Dilute raw ACV with equal parts of water.
Using a cotton ball, apply the vinegar remedy to the itchy bed bug bites.
Leave to dry before rinsing off with warm water.
Apply 2-3 times a day for quick relief from itchiness and to reduce redness.
Washing your face with apple cider vinegar is another reason to use ACV to quickly cure bed bug bites around your nose and cheeks.
Lemon juice
Another great and easy home remedy to alleviate the discomfort caused by bed bug bites is to apply lemon juice. Because of its citric acid content, lemon juice has medicinal properties that work similar to apple cider vinegar in relieving itchy skin.
To get fast relief from bed bug bites, dip a cotton ball in lemon juice and apply to the itchy bed bug rash. Repeat the process 2 or 3 times a day to stop the bites itching.
Witch hazel
Use the natural astringent properties of witch hazel to dry out bed bug rashes quickly and reduce the urge to scratch. Witch hazel contains tannins which not only help get rid of itching caused by bed bug bites but also have antibacterial properties that prevent infections. Witch hazel is also one of the best home remedies to get rid of flea bites.
Advertisement
Doctors on WebMD say that witch hazel is applied directly to the skin to reduce itching, pain, and swelling caused by insect bites as well as mite bites.7 Studies into the anti-inflammatory effects of witch hazel found that the astringent properties help to reduce skin inflammation and improve its appearance.8
To soothe an itchy bed bug bite, you can apply witch hazel directly to the affected skin area. This is what you should do:
Dip a cotton ball in witch hazel and place on the itchy skin bump.
Hold the witch hazel compress for around 10 minutes to relieve the discomfort and reduce swelling.
If you have a cluster of bed bug bites, then you can apply witch hazel by gently rubbing the mixture over the bed bug rash.
Repeat a couple of times each day to get relief from itching and burning and to help the healing process of the bed bug bite.
Baking soda
Baking soda is a natural antibacterial agent that can help dry out inflamed skin rashes and help to cure bed bug bites. Baking soda is also anti-inflammatory and will reduce the itchy sensation from the bed bug rash on your skin.
Doctors recommend using baking soda to soothe the redness, itching, and stinging that are caused by a mild reaction to an insect bite such as bed bug bite.9 A study into the antibacterial activities of baking soda found that it is also effective against a number of strains of bacteria.10
Make a home remedy for getting rid of bed bug bites by combining some water with baking soda. Here is how to make your anti-itch paste:
Mix a little water with a tablespoon of baking soda to form a thick paste.
Apply the remedy to your bed bug bites and leave for 15 minutes.
Rinse off with warm water.
Use twice a day until the symptoms of bed bug bites have gone for good.
The baking soda treatment will help to protect the bed bug rash on your skin from becoming infected with germs. When combined with other ingredients, baking soda can help you get gorgeous, healthy-looking skin.
Aloe vera
Pure aloe vera gel will help to get rid of the itch from an insect or bed bug bite. Aloe vera is rich in soothing properties that reduce inflammation and nourish your skin. To relieve skin itching, you can use aloe vera in its pure form straight from the plant leaf or you can buy pure aloe vera gel.
Aloe vera is known for its healing effect on the skin. In a study published in the journal Skin Pharmacology and Physiology on the anti-inflammatory properties of aloe vera, it was found to be more effective at reducing skin irritation than 1% hydrocortisone gel.11 Hydrocortisone creams are often prescribed for insect bites.
It is very easy to use pure aloe vera gel to heal bed bug bites. All you have to do is apply the aloe vera gel liberally to the affected skin area a few times a day. The soothing effect of aloe vera on the skin will quickly get rid of itching and help to protect your skin.
Oatmeal
Oatmeal is a natural remedy for skin inflammation and will soothe bed bug bites and other insect bites. The anti-inflammatory, antioxidant, and cleansing effect of oatmeal quickly reduces irritation, itching, redness, and swelling associated with painful bites.
A study published in the Journal of Drugs and Dermatology found that applying a topical treatment of colloidal oatmeal (ground oatmeal) helped reduce itching, skin rashes, burns, and eczema.12 In fact, colloidal oatmeal is registered at the U.S. Food and Drug Administration to ?provide temporary relief of itching and irritation caused by insect bites.?13
To get rid of bed bug bites with oatmeal, here is an effective home remedy:
Advertisement
Grind a cup of oatmeal into a fine powder.
Add enough plain yogurt to create a smooth paste.
Apply the oatmeal remedy to the itchy bed bug rash on your skin for fast relief.
Leave for 20-30 minutes before rinsing off with warm water.
Repeat the process 2-3 times a day until all itchiness and redness have gone from your skin.
You can also add some honey to the oatmeal anti-itch remedy to help boost its antibacterial potential.
Oatmeal is so effective at getting rid of any kind of skin irritation, you can use it in a warm bath as a home remedy to stop itching all over your body.
Honey
Honey, especially Manuka honey, contains powerful medicinal properties that can soothe an itch and heal bacterial skin infections. A dab of raw honey on the bed bug bite may be all you need to soothe the irritation. Honey should also be applied to insect bites to help prevent secondary skin infections developing.
The Mayo Clinic reports that there is some evidence that honey can be used as a topical itch treatment and it can help form a protective barrier on the skin.14 Studies have shown that honey can help reduce scalp itching and prevent infections.15
All you have to do to relieve itching from a bed bug bite and speed up the healing process is apply a little honey to the itchy spot. You can repeat as necessary throughout the day whenever you feel the urge to scratch the bed bug rash.
Cucumbers
Another natural remedy to cure bed bug bites and soothe the discomfort they cause is to put some slices of cucumber on the itch. Cucumber is especially soothing on the bed bug rash if you take it straight out the refrigerator before applying it.
A medical study found that cucumbers have anti-inflammatory activities and help to inhibit inflammatory enzymes like COX-2. Cucumbers are also rich in vitamin C, E, and A ? all of which are essential for keeping skin healthy.16
Place slices of cooled cucumber directly on the bed bug rash to ease pain, reduce inflammation, and quickly stop the itch. Use as necessary every time the insect bite starts itching.
Cool tea bag
Relieving the discomfort of bed bug bites is one great way to use your old tea bags. There are various types of tea that you can use to soothe a painful itchy bite.
Black tea contains tannins which act as an astringent on the skin to reduce itching. The Journal of Pharmacognosy and Phytochemistry says that the tannins are released when the black tea is put in hot water. The journal reports that tannins can be used to heal the skin and form a protective layer over tissue.17
Chamomile tea has a soothing effect on the skin as well as the mind. Studies into the anti-inflammatory and protective properties of chamomile show that it?s a great herb to relieve itching and inflammation and speed up the healing process of skin infections. Chamomile tea has been shown to be more effective than 1% hydrocortisone creams and is safe for long-term use.18
Advertisement
To use black tea bags or chamomile tea bags, you should place one teabag in a cup of hot water. Leave to infuse for a few minutes. Place the tea bag in the refrigerator to cool is down. Use as a cold compress on the itchy bed bug bite to get rid of the irritation and to get a quick itch relief.
You can also use the essential oil of chamomile to relieve itching. The University of Maryland recommends putting 5 to 10 drops of chamomile oil in a warm bath to soothe bed bug bites.19
Essential Oils to Get Rid of Bed Bug Bites
There are many other essential oils for skincare that are excellent home remedies to reduce swelling and redness and prevent itching caused by bed bug bites.
Apart from tea tree oil and lavender oil, which can be applied directly as a spot treatment, essential oils should always be diluted before using on the skin. Coconut oil is a great carrier oil to use to reduce itching and prevent skin infections.
Coconut oil has many beneficial medicinal properties. The journal Pharmaceutical Biology reported that coconut oil reduces inflammation and eases pain.20 Read more about the 10 secret ways to use coconut oil on your skin.
When using essential oils with coconut oil on your skin, you should add 2-3 drops of essential oil in 1 tablespoon of coconut oil.
Tea tree oil for bed bug bites
The journal Clinical Microbiology Reviews reported on studies showing that tea tree oil shows anti-inflammatory and antibacterial activities. It can be added to coconut oil to help heal bed bug bites speedily and kill off any germs that may cause infection.21
If you have just one or two itchy bed bug bites, you can put a drop of tea tree oil directly on the spot to get instant itch relief. If however you have a sensitive skin or need to apply it on a larger skin area, mix a few drops of tea tree oil in a tablespoon of coconut oil and apply to the bed bug bites to reduce skin irritation and inflammation.
Using tea tree oil is also good for treating spider bites and cockroaches bites.
Tea tree oil is also one of the ingredients in my effective bed bug spray.
Lavender oil for bed bug bites
A study from 2015 found that lavender essential oil contains antioxidant, pain relieving, and anti-inflammatory properties. Lavender oil was just as effective as dexamethasone, a pharmaceutical drug that is sometimes prescribed to relieve allergic reactions and reduce swelling.22
Another study found that lavender oil helped to reduce allergic skin reactions when used topically.23
Like tea tree oil, you can dab a drop of lavender oil directly onto a small itchy bed bug bite. For larger bed bug rash area, you should mix lavender oil with coconut oil to make a topical anti-itch cream.
Calendula oil for bed bug bites
The University of Maryland reports that calendula oil is an effective treatment for itchy skin inflammation.24 You can use a few drops of calendula oil mixed with coconut oil. Or you can buy a calendula cream to relieve itchiness from bed bug bites.
Bed Bug Bites ? When to See a Doctor
Usually, home remedies quickly and effectively heal bed bug bites and all your symptoms should be gone within a week.
However, doctors from the Mayo Clinic25 advise that you should see a doctor if you have a severe allergic reaction to the bed bugs or if the rashes caused by the bites start to blister.
Read my other related articles:
1. The Top 10 Home Remedies to Get Rid of Bed Bugs Naturally
2. The Best Bed Bug Sprays to Kill Bed Bugs Fast
3. Mite Bites: Warning Signs and Natural Treatments
4. Itching All Over the Body ? Causes and Natural Treatments
5. What Do Flea Bites on Humans Look Like?
6. How to Effectively Kill Bed Bugs Using Diatomaceous Earth (DE)
Article Sources:
CDC. Bed bugs FAQs
WebMD. Bedbug bites
MayoClinic. Bedbugs.
eMedicineHealth. Insect bites.
Expert Opin Pharmacother. 2010 Jul; 11(10): 1673?1682.
PLosOne. The antibacterial activity of acetic acid.
WebMD. Witch Hazel.
Postepy Dermatol Alergol. 2013 Jun; 30(3): 170?177.
WebMD. Baking soda: What can it do for you?
Compend Contin Educ Dent Suppl. 1997;18(21):S17-21;quiz S46.
Skin Pharmacol Physiol. 2008;21(2):106-10.
J Drugs Dermatol. 2015 Jan;14(1):43-8.
NCBI. Colloidal oatmeal powder.
MayoClinic. Honey.
Eur J Med Res. 2001 Jul 30;6(7):306-8.
J Young Pharm. 2010 Oct-Dec; 2(4): 365?368.
PhytoJournal. Tannins are astringent.
OWM. Using chamomile solution.
UMM. German chamomile.
Pharm Biol. 2010 Feb;48(2):151-7.
Clin Microbiol Rev. 2006 Jan; 19(1): 50?62.
An Acad Bras Cienc. 2015 Aug;87(2 Suppl):1397-408.
Pharmacogn Rev. 2014 Jan-Jun; 8(15): 52?60.
UMM. Dermatitis.
MayoClinic. Bedbugs.
How to Get Rid of Bed Bug Bites: The Most Effective Home Remedies was last modified: November 15th, 2018 by Jenny Hills, Nutritionist and Medical Writer